Sitting in the fantastic weaving studio at the Textílsetur Íslands in Blönduós, enjoying the vast panoramic view of Northwestern Iceland, I think about the wilderness, the roughness and the isolation of this small town.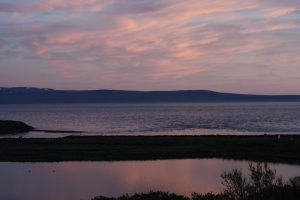 I start to wonder about times before the roads and modern heating systems. The times where there was no road no. 1 connecting the north to the south and the villages to towns. How did the first settlers of Iceland adapt to the fresh, blowing wind that is still so chilly, even in mid-june?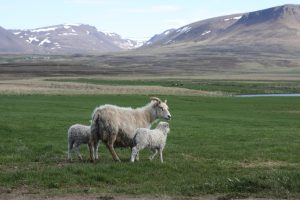 Jóhanna Pálmadóttir farm, Icelandic sheep, Photo: Ryth Kesselring 2018
Looking at the scenic seaside my thoughts start wandering and I imagine myself here in a different century. Even if I know that Blönduós was founded during the 19th century, I imagine myself here at the times of the Vikings, arriving after an epic journey on the cold and rough Norwegian sea somewhere between the 9th to the 11th century. Trying to adapt to the isolated cold winter season on an Island surrounded by ice and and snow.
Weaving studio at Textílsetur Íslands, Photo: Ryth Kesselring 2018
Looking at the old-fashioned floor looms around me, I am imagining the weavers of the past creating soft and warm fabrics out of wool to keep their loved ones warm. The very same wool I have been learning to tame since the day I arrived in Iceland. The wool that seems to contain the beautiful wilderness of this Nordic country, and that materializes the rawness of its surroundings. The wool that comes from the northern Europe short tail sheep, brought by the Vikings from Norway and isolated on this island so that it became one of the purest breeds of sheep in the world. The wool that I am learning to spin, that I have dyed with different Icelandic plants and that will be my chosen material for this month of artistic research and exploration.