Part of exploring a new country is enjoying and embracing their culinary traditions. These are some of my favourite Icelandic foodie finds, where to find them, and how to best enjoy them.
Góð Matarlyst! (Bon Appétit)     
Rúgbrauð — also known as hot spring bread or geyser bread — is an Icelandic rye bread which is cooked in pots or square baking pans that have been buried in the ground. How do you cook something in the ground you may ask? Iceland is home to many volcanoes, which in turn leads to a consistent flow of l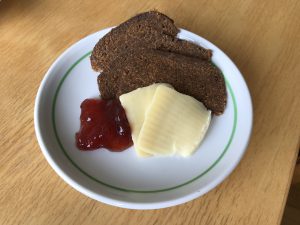 ava in many areas, heating the ground. This is also the reason for the many hot springs found in Iceland. The bread is placed in a hole in the ground, then covered with the steaming hot dirt. It cooks in the ground for up to 24 hours. This bread is very dense, is crustless, and has a sticky quality to it, mostlikely due to the sugar content. I found it to have a sweet, fig like flavour. Icelanders enjoy their Rúgbrauð with thick slabs of butter or mutton pate. It can also be found on menus across Iceland served with cheese platters or soup. I particularly enjoy eating it with gouda cheese and strawberry jam, or from time to time, with some Icelandic Skyr! 
Check out this video for more details on the preparation and cooking of Rúgbrauð: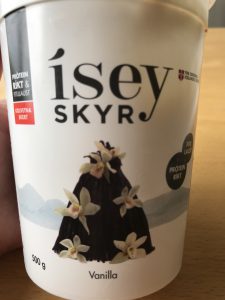 Skyr is an Icelandic dairy product much like strained yogurt. It is one of the most popular food choices in our communal fridge at the Icelandic Textile Centre. It is extremely high in protein and low in fat. Skyr comes in many flavours, including but not limited to vanilla, mixed berry and crème brûlée! I really enjoy its decadent whipped texture and sweet and sour flavour.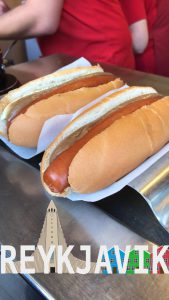 If you ever get the chance to visit Iceland, then you must try an Icelandic hotdog from one of the street vendors. Their hotdogs are made from lamb meat, are served on a steamed bun and come with the following toppings; ketchup, brown mustard, raw onions, remoulade sauce and my personal favourite, crispy friend onions! I don't think I will ever be able to eat a hotdog without crispy onions again. The crunch from the onions in juxtaposition with the soft bread and salty sausage makes for a really good afternoon snack after walking the streets of Reykjavik. If you are willing to wait in line for a good 30 minutes, I suggest trying the hotdogs at Bæjarins Beztu Pylsur, they are definitely worth the wait! Just make sure not to eat too many, because you should leave some space for dessert!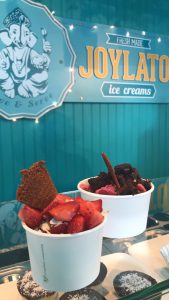 Have you ever wanted to make your own ice cream? At Joylato in Reykjavik you can make your wildest ice cream dreams come true! You can design your own ice cream which they then freeze using liquid nitrogen. You select your preferred milk (cow or coconut), then the flavour (chocolate, vanilla, chocolate hazelnut, raspberry etc.) followed by a wide selection of toppings like fresh strawberries, brownies, nuts, sprinkles and sauces. My personal favourite combination is chocolate hazelnut ice cream topped with fresh strawberries, coconut chips and chocolate sauce. Each ice-cream is topped with a homemade vegan wafer cookie. Honestly, I can say that this s by far the best ice cream I have ever had, so much so that I went two days in a row!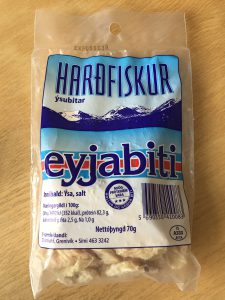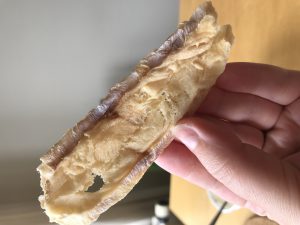 Looking for a salty snack? Harðfiskur or dried fish is an Icelandic delicacy. Most often cod or haddock, it is hung to dry and cure through the natural bacteria of the Atlantic air. It is then broken apart with a hammer or meat cleaver. There are some Harðfiskur that are fishier then others. My favourite so far is the Harðfiskur ýsubitar, which has a subtle fishy smell and taste, and has a crispy wafer or chip like texture. Icelanders are known for eating Harðfiskur with butter, but I find it quite tasty on its own. It is widely available and can be found in all grocery stores and gas stations. 
Last but definitely not least, if you're planning a trip to Iceland, you must be sure to try Fiskisúp or Icelandic fish soup. It is said that Icelanders all have their own recipe, but for the most part they all consist of a cream and tomato base with fresh white fish and vegetables. All you can eat soup and bread, and sometimes pizza, buffets are very common in Icelandic restaurants at lunch hour. Ömmukaffi – which means Grandma's coffee house — located just a few minutes away from the Icelandic Textile Centre in Blönduós — is where you can find the best local Fiskisúp. It has big chunks of tender fresh fish and subtle notes of curry flavour. They serve it alongside homemade bread, butter, pesto and tomato pesto. It has been one of my favourite meals here in Iceland so far.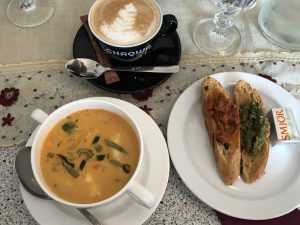 Want to know when Ömmukaffi is serving their famous Fiskisúp? Check out their Facebook page here:
https://www.facebook.com/ommukaffi/