Iceland boasts a landscape unlike any other. A glance outside a window of the Icelandic Textile Center, previously the Kvennaskólinn in Blönduós, offers a view of black-sand beaches, green vegetation, snow-capped mountains, and infinite sea. This vast beauty is something which many travellers to Iceland eagerly anticipate, myself included. It was my intention, however, to explore the more intimate aspects of the majestic natural landscape, stopping to smell the proverbial flowers as I attempted to absorb as much of my surroundings as possible to ground myself in this new environment.
Armed with my iPhone and a 15x macro lens, I gingerly crept around the coastal area of the Textile Center on my first weekend in Blönduós. The following photos capture some of the fascinating objects I came across on my walks, for which the macro lens provided a novel, almost microscopic perspective. Online research and conversations with the centre's director, Jóhanna Pálmadóttir, provided further insight into their significance.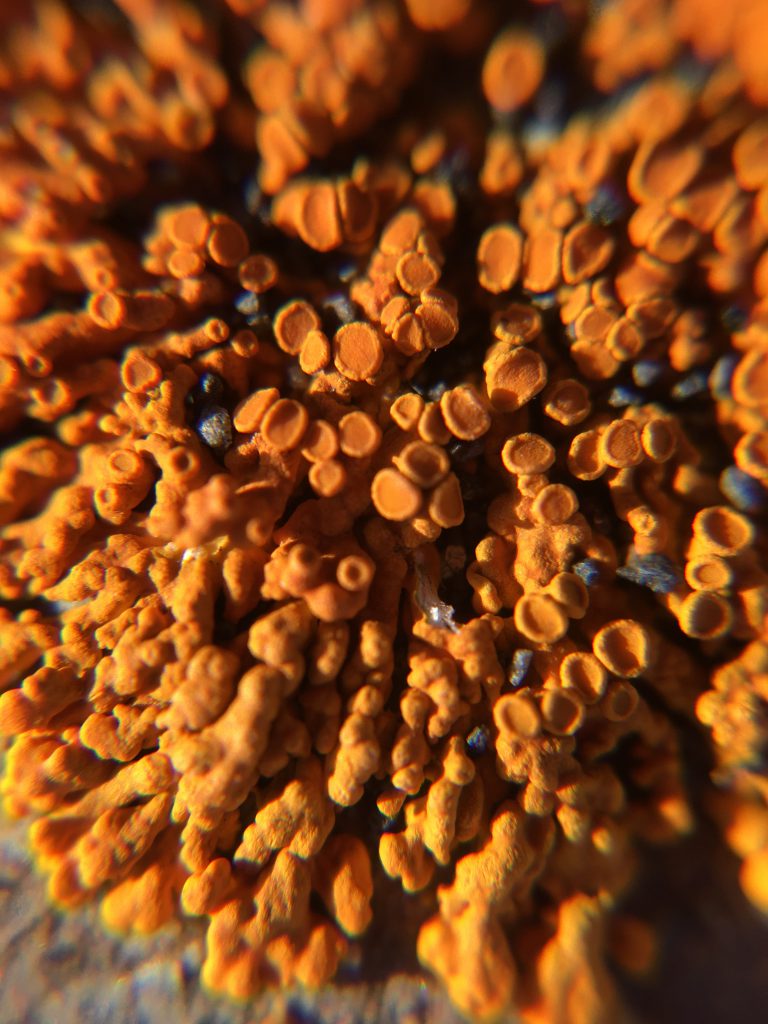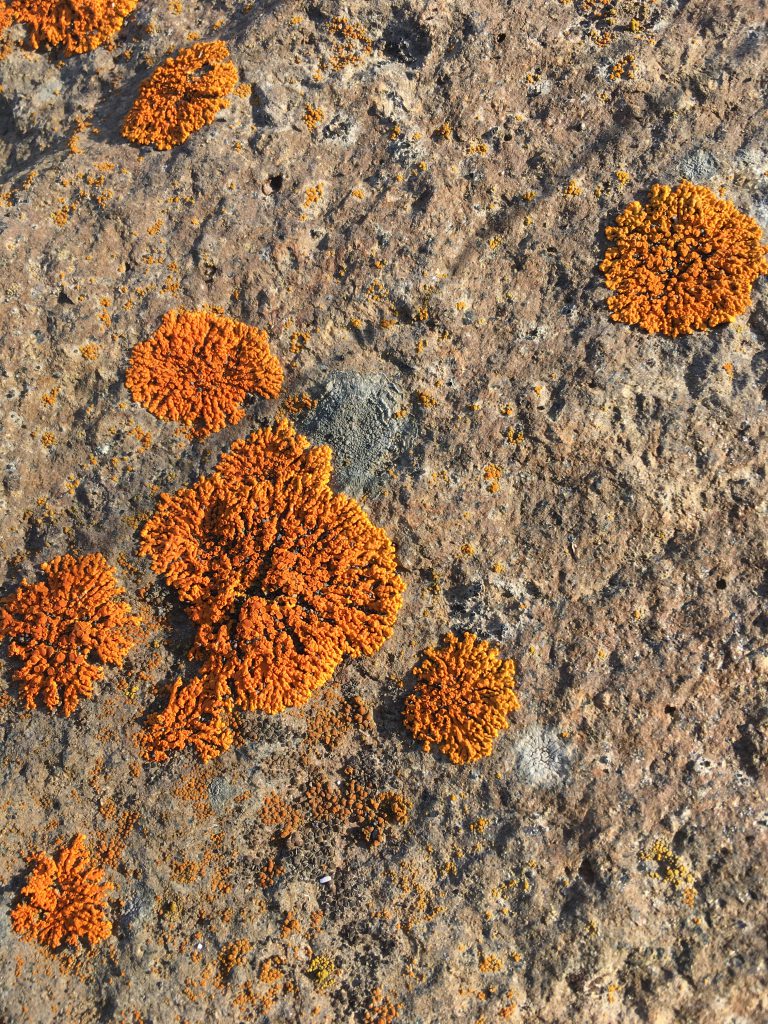 Lichens, or skófir, are among the most recognizable natural life in Iceland, with over 700 species across the country. These can be categorized into three groups, based on appearance: fruticose, foliose, or crustose lichens. The lichen pictured most likely belongs to the latter category as it grows as a crust on textured surfaces such as rocks, soil, or tree bark. Although leafy lichens are habitually confused for mosses, they are in fact comprised of multiple organisms which can be more easily appreciated at this close range.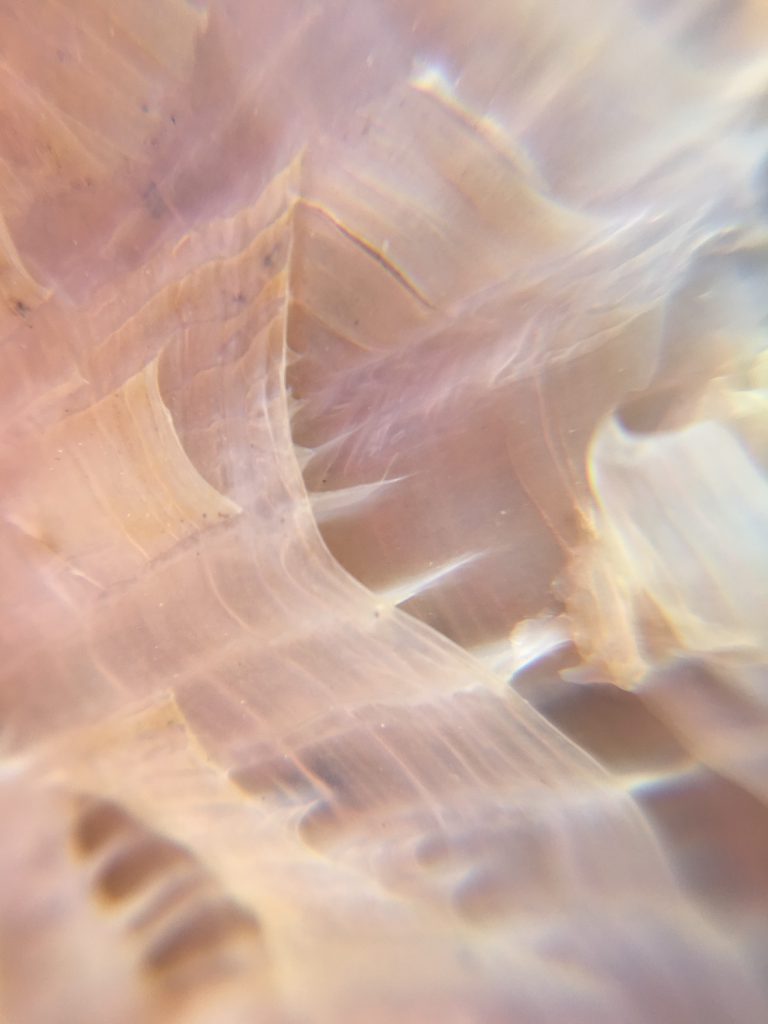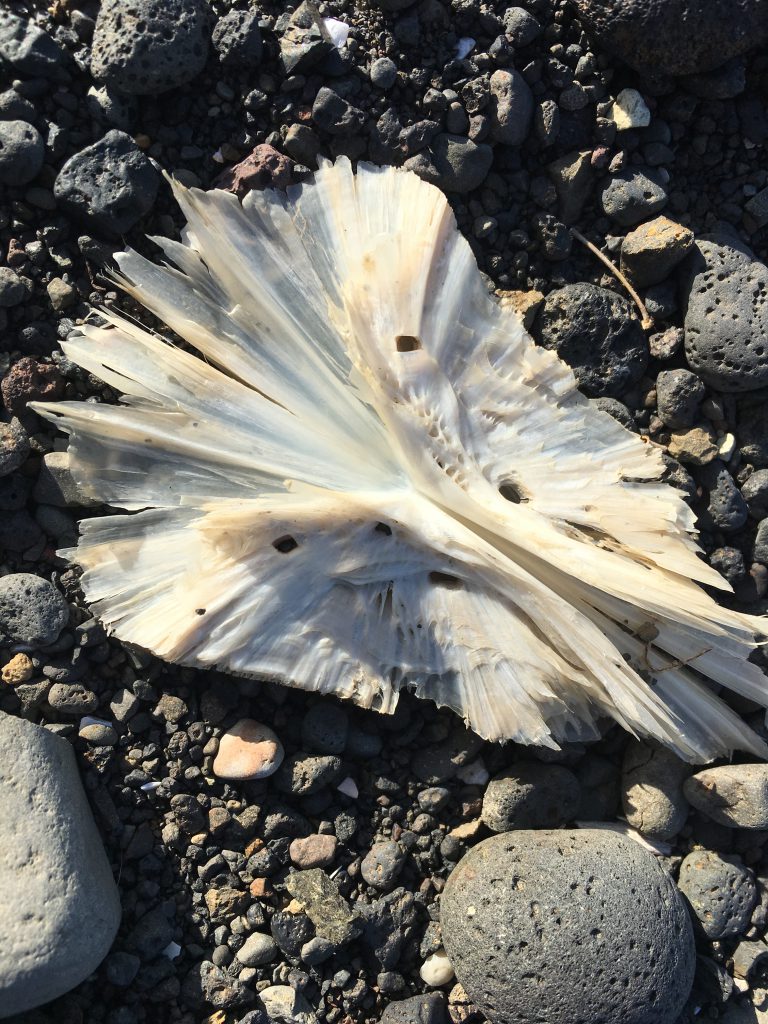 This fish bone likely came from an Atlantic cod, a noteworthy fish in Iceland. Historically, it has been the most important marine resource in the country, appearing on the Icelandic coat of arms between the 16th and 20th centuries. The cod is a fast-growing fish and can develop to a length of one meter with few predators, humans aside. This cod was not so lucky as indicated by its bones.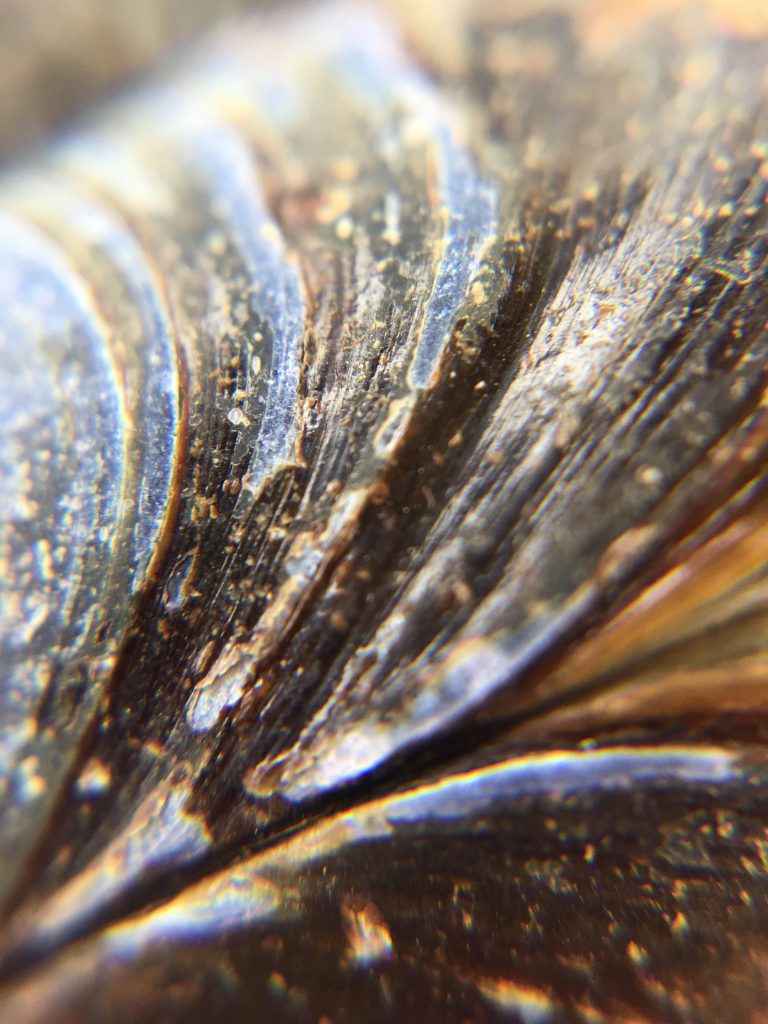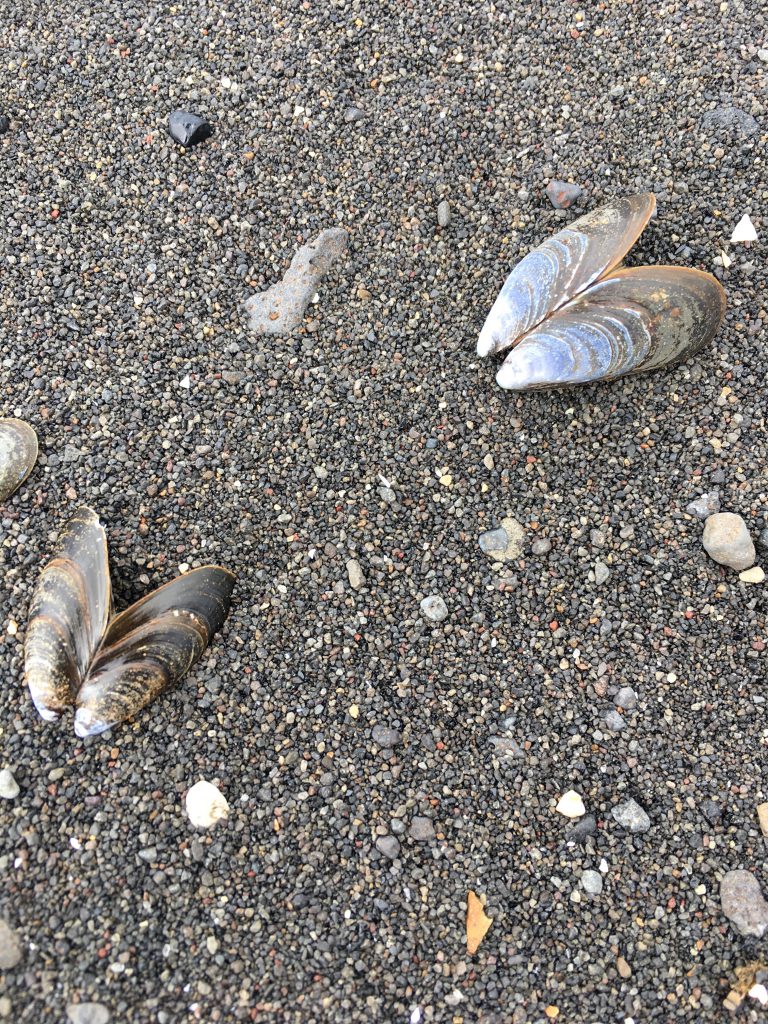 Blue mussels are commonly found in shallow Icelandic waters. They attach themselves to hard surfaces and will remain there as the tide recedes, ultimately drying out and perishing. As a food source gaining popularity with humans, one must be aware of the potential toxicity when the mussels ingest a certain algae bloom. These blue mussels appear to have provided a tasty treat for some aquatic resident.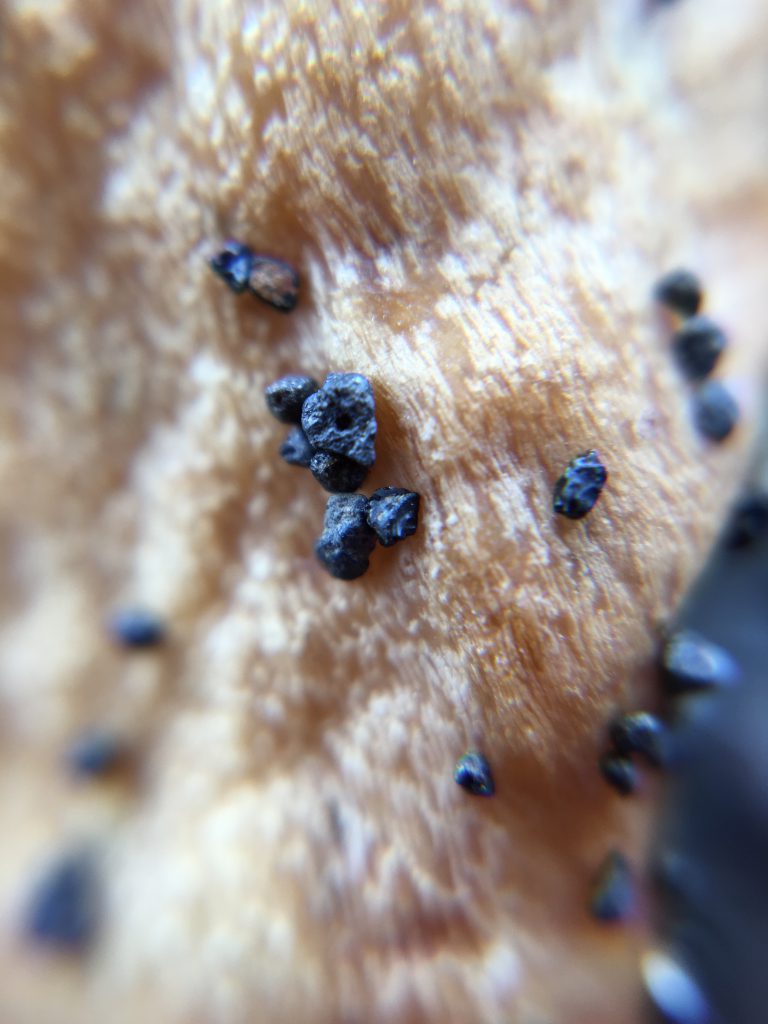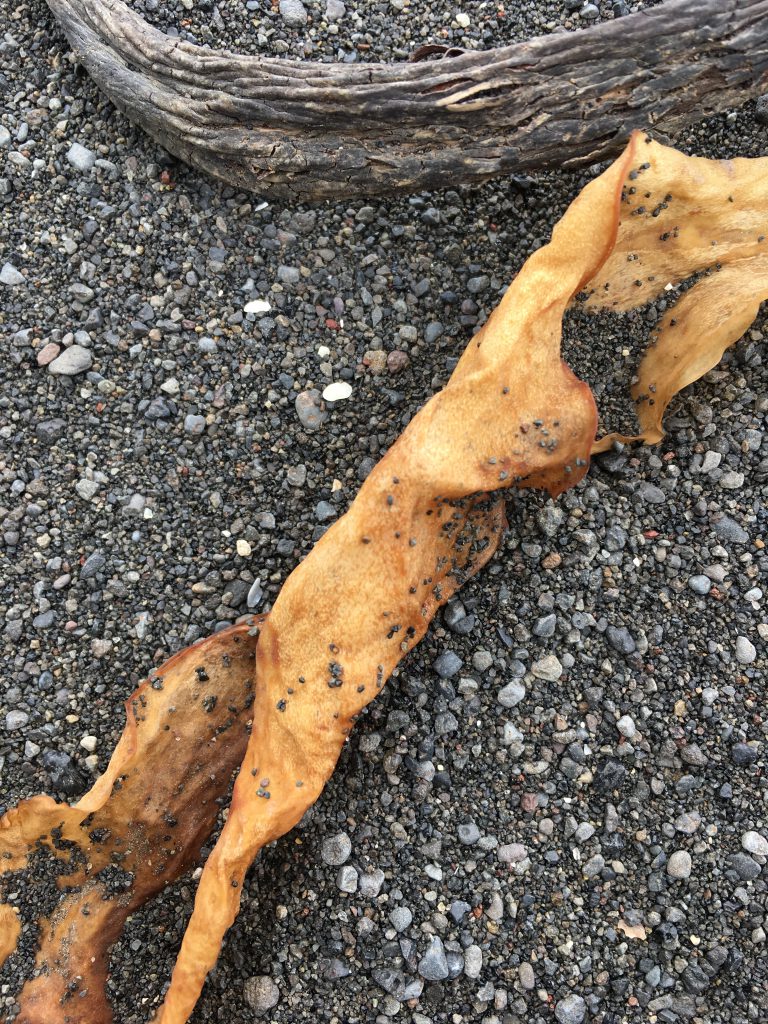 Usually referred to as kelp or þang, brown algae comprise most of the large algae found in shallow waters and on the Icelandic seashore. Although the dominant species of seaweed on the northern shore has been identified as knotted wrack, the algae pictured looks more similar to a variety of sea belt which tends to live in saltier conditions. They grow in large, underwater forests, acting as protection for small or young animals and food for others.
For the above images, careful posing and Photoshop were not needed nor wanted, as I wished to digitally preserve, as best I could, exactly what was offered. With each encounter, a new wave of excitement surged through me, a hidden treasure concealed in plain sight, waiting to be discovered by a wandering and wondering visitor. How many people had taken this same path and seen this same landscape before me? How many had stopped to enjoy its intimacy as well as its grandeur? These photos serve as a reminder to remain aware of the many wonders on display, for those who are willing to take a closer look.