The idea of  Vatnsdæla on a tapestry was born from the vision of Jóhanna E. Pálmadóttir. She was inspired by the Bayeux tapestry, which was created approximately between 1066-1077 and recorded at a Cathedral in Northern France.
In the beginning of this wonderful project, Jóhanna collaborated with the second year students from the graphic design department at the Iceland University of the Arts in Reykjavik, who created the drawings of Vatnsdæla in 2011. They were under the supervision of Kristin Ragna Gunnarsdóttir, a graphic designer, illustrator, writer and teacher at that school. Helga, Jóhanna's daughter helped with the process of poking  holes on the first drawing in order to transfer the images onto the tapestry. Later on, a group of students from Denmark volunteered to undertake poking holes in the rest of the drawings.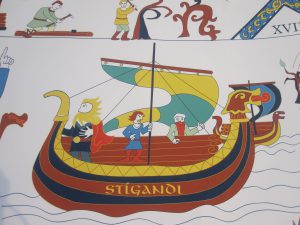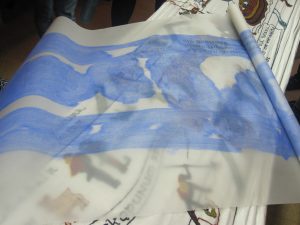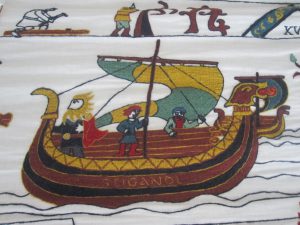 The aim of this project is to revive the Vatnsdæla saga, an old story in Iceland, in a new, exciting way through a textile based community project. Jóhanna, who was on the board of Textilsetur Islands at that time, also collaborated with Landnám Ingimundar gamla, an association that assisted with the historic narrative of Vatnsdæla saga. The saga is the family history of the people of Hof, a farm in Vatnsdalur, not far from Blönduós. It took place from 9th to 11th century and was written in 1270 AD. The story covers themes such as love, fate, honour, perseverance and valiance against enemies.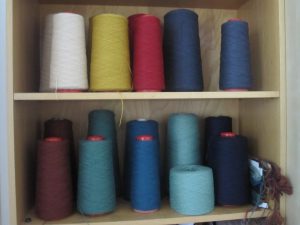 Jóhanna purchased the yarn for the tapestry from Ístex hf, a spinning mill that produced the yarn from lambs' wool. The ancient embroidery, which existed in the middle age in Iceland, is introduced again through Vatnsdæla on a tapestry project. The tapestry will be 46 metres long and the names of all those supported this project will get their names in a book which will be displayed alongside the completed tapestry. People can support this project through purchasing an embroidery lesson on site or through donations.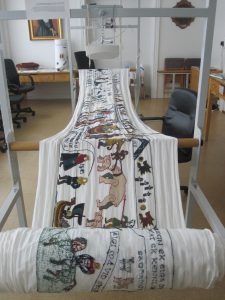 Jóhanna's vision is to exhibit the finished Vatnsdæla on a tapestry at a location in a farm land, where Þingeyrakirkja, an old stone church, is located and the church was built in 1873. On this farm land, the first monastery in Iceland was built in 1133. 
The location of Vatnsdæla on a tapestry is now in Kvennaskólinn, the former women's school in Blönduós. The opening hours are from 13:00 to 17:00 on weekdays from June 15th to August 15th. During winter months and weekends, the site is closed, however, group visits can be arranged.