Despite being transported by the beauty of the Icelandic landscape, particularly that of Blönduós, our first week at the Icelandic Textile Center was rich in learning. We received expertise from three exceptional women regarding the history and some of the textile techniques related to our host location.
At first, Ragnheiður Björk Þórsdóttir taught us the basics of tapestry weaving. Then, she introduced us to the history of Icelandic textiles by talking about the origin of spinning, the advent of the first stone looms, the symbolism associated with weaving in Nordic mythology and the critical role of fabrics in the country's socio-economic system. Finally, we could appreciate some of the many textile structures, costumes, patterns and colours that have shaped the Icelandic identity. This meeting with Ragga also allowed us to visit her exhibition ÞRÁÐLAG, (Threadscape) in her company at the Textile Museum in Blönduós. Her woven works provide a contemporary look at the Icelandic textile legacy.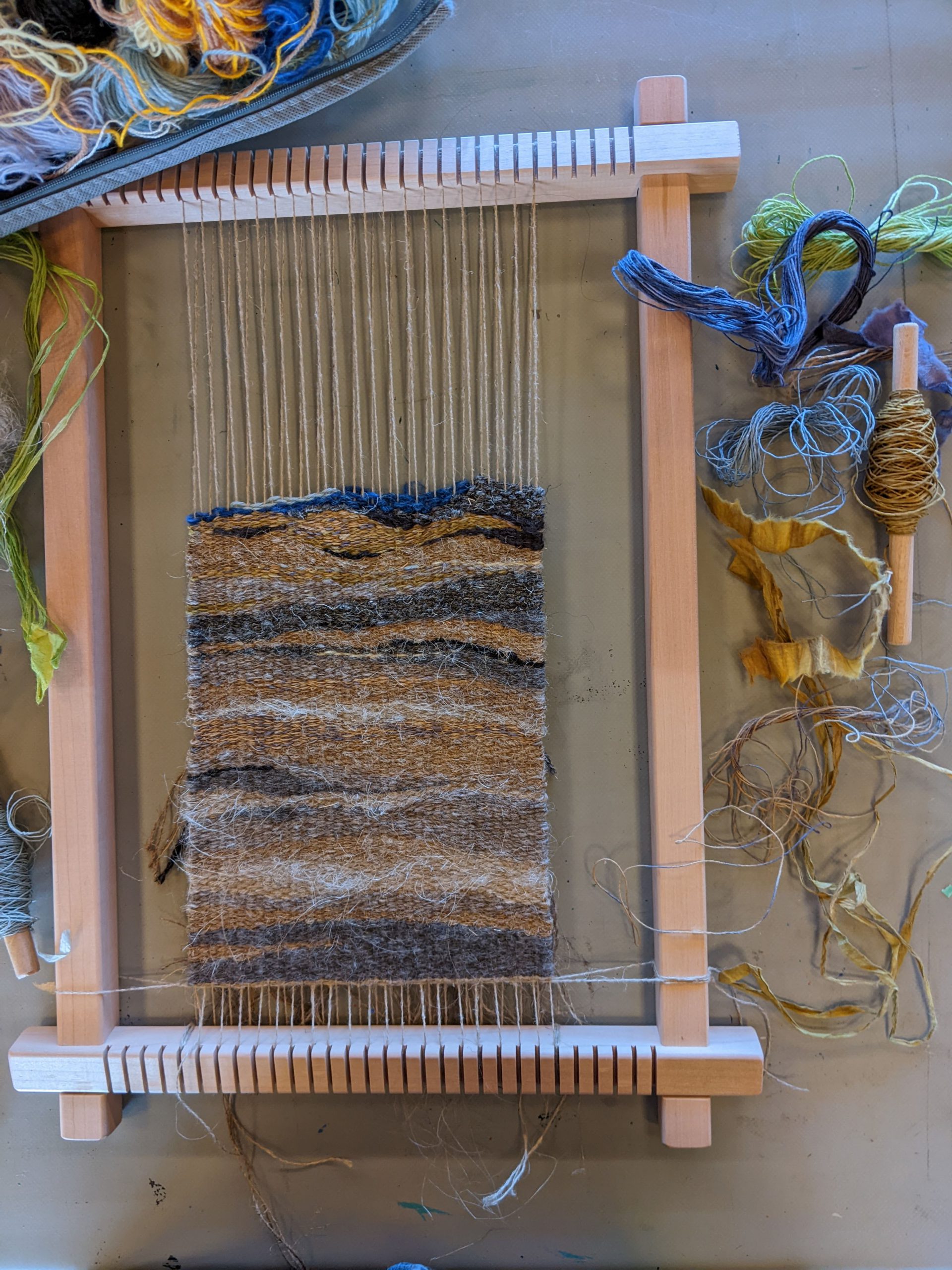 Afterwards, Jóhanna Erla Palmadóttir taught us how to identify the different parts of the fleece and then to card and spin the wool from the Borgares sheep. Watching her transform this wool into yarn seemed so easy. Despite our first clumsy attempts, Jóhanna's assistance and a bit of perseverance slowly transformed the fleece into a string. Fascinated by the gestures of spinning wool, many of us spontaneously devoted moments of our daily life to this discipline, refining a little more each day the yarn proudly produced by our hands. Capturing the precise moment when the texture of the wool transforms from soft fleece to smooth thread between our fingers is rewarding. It allows us to better grasp the complexity of this precious textile fibre.
To conclude this week's workshop, Deborah Grey shared her passion for foraging plants for natural dyes. The landscapes of Blönduós provide gorgeous chromatic possibilities with their diverse vegetation. We joined our efforts to prepare and dye wool with many of the plants that surround us. We learned to recognize and discover their respective pigments with Deborah.
As I prepared for this field school, I suspected my art practice would be transformed by the encounters and learning I experienced. My classmates and I are enhancing our technical knowledge through the enlightening conversations that accompany us throughout the days. The sharing of textile know-how echoes the landscapes of Blönduós, the plants, animals and humans that inhabit it. This manifests in my experiments where I combine the techniques I have recently acquired with Ragga, Jóhanna and Deborah. This time-space offered by this residency will undoubtedly impact my further research in textile arts.
Mylène