As a teacher and artist coming from an installation, painting and drawing practice, the thought of learning about new techniques and acquiring new skills is always exciting. With this mindset, these fresh experiences are usually enlightening and satisfying. Usually. Spinning wool proved otherwise at first.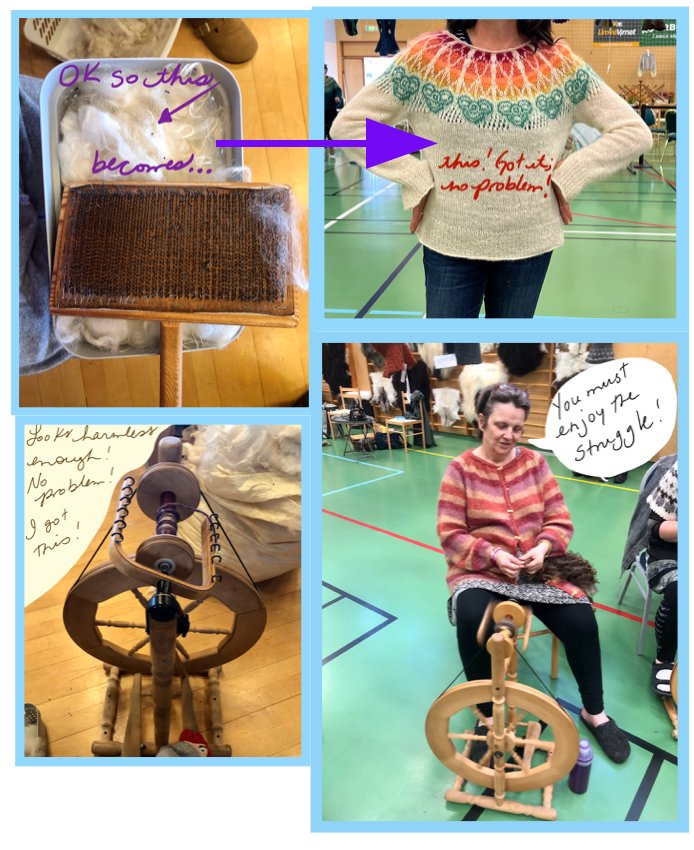 Johánna, our very very experienced spinning instructor (not the stationary bike kind) was gracious, informative and physical in her demonstration. As she covered my hands with hers to help me mimic the gentle push and pull motion to feed the spinning wheel, I was confident I would "get it", even though she repeated many times that our priority was to enjoy the struggle. I was SO not getting it. Mistakes were being made all over the place. I had no idea what I was doing, no matter how many times Johánna showed me. I was getting so frustrated that my fleece strands were not being spun evenly on the bobbin that I found it impossible to enjoy the struggle. I was more in the same frame of mind as some of my classmates who wanted to "get off the struggle bus". My fleece was not turning into the beautiful, even, delicate and romanticized wool strands from the cute sheep I had seen earlier in the week, but rather became a gnarled, over-spun, thin, yet bulbous hot mess. But I still had fleece left, and my strand had yet to be plied (look at me using wool lingo!), so I was not done.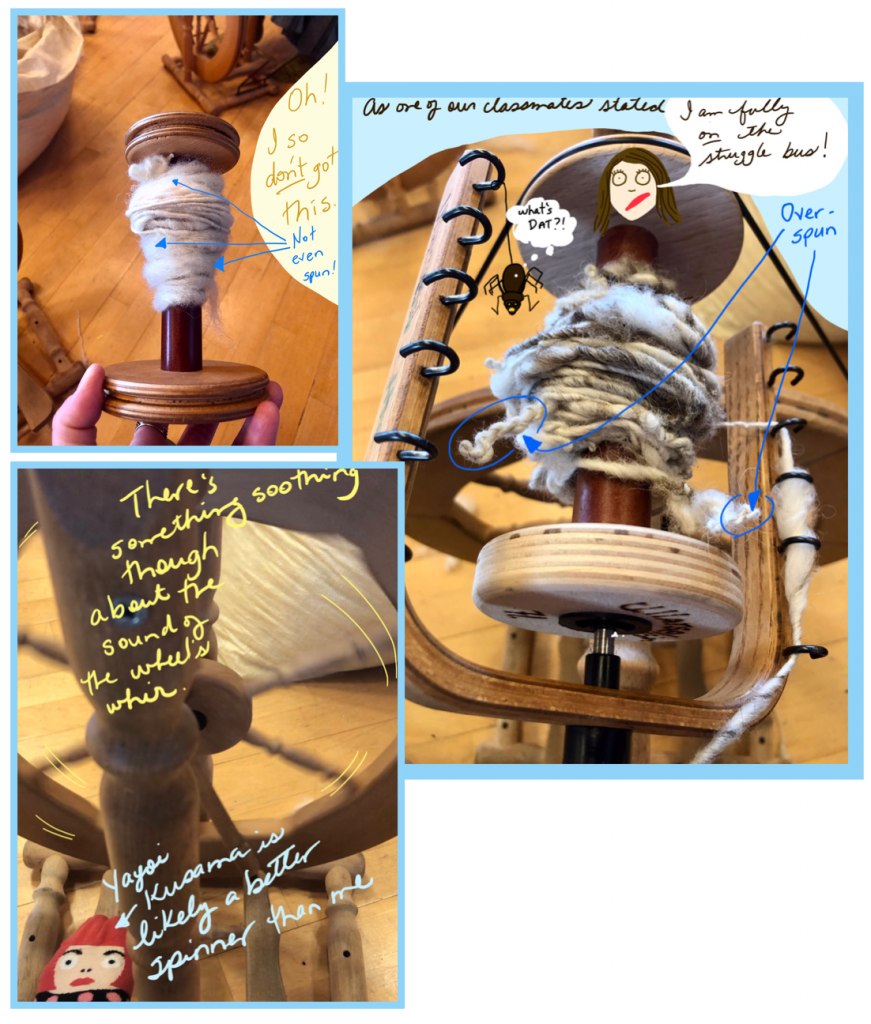 Besides learning about a new technique, what became relevant to me as the session wore on was how Johánna's words connected to my current research on mitigating fears of making mistakes in the high school art room, so promoting the enjoy the struggle mantra was apropos. Putting myself in the frame of mind of my students who are expected to try new techniques with this same "it's ok to make mistakes" growth mindset, I shifted my perspective.
I sometimes must remind myself that I am here not as a teacher feeding my professional development, but that I am here as a student; so, I am learning to spin. I took a few more stabs at it and plied my single strands together with not much more ease than with how I started. Yes, it's a total disaster, but that's ok. It's gnarled and over-spun, thin, yet bulbous, and soft and light and two colours. It's a beautiful disaster.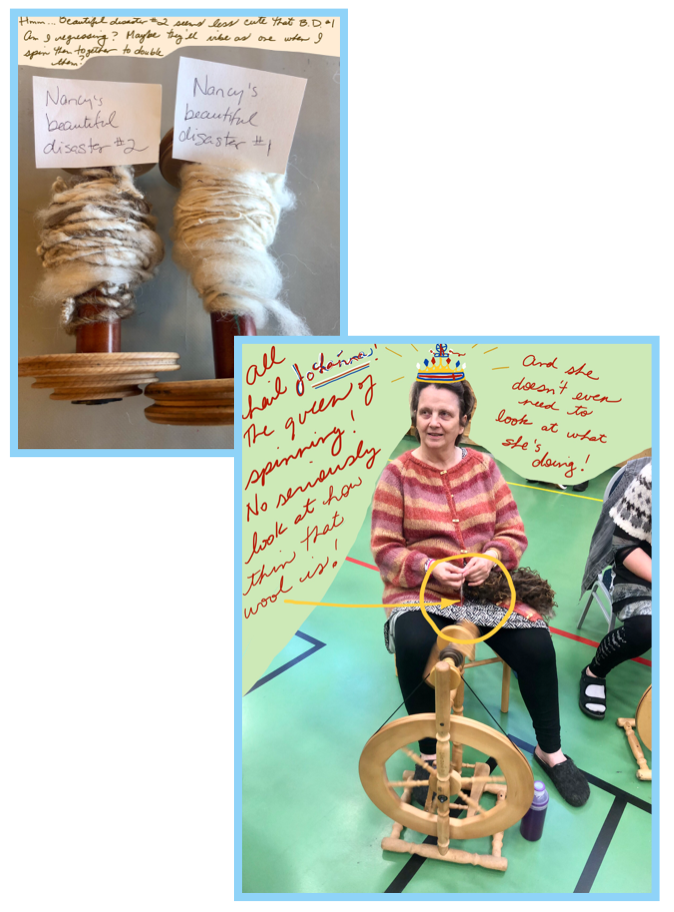 That gorgeous wool sweater I bought during my last travels? I think I need to perform a small gratitude ceremony to spinners past, present and future every time I put in on now. During my spinning time, I looked over at a classmate, who is clearly practised at this. I studied with awe their very carefully timed, deliberate yet unhurried hand and gentle arm movements. It's not that I was unaware of wool's passage through spinning on its journey from sheep to clothing. What occurs to me now is that I never factored the spinner's physicality – their body rhythms – as connected to my garments, and subsequently to me, when I put on my wool sweater. It is sometimes the case, as has been proven during my talks with some of the vendors at the Blönduós knitting festival, that the spinner is also the knitter, but in most instances, the knitter gets all the glory. Here's to those who "get it", who can beautifully channel their inner-arachnid, and who need a little spotlight of their own.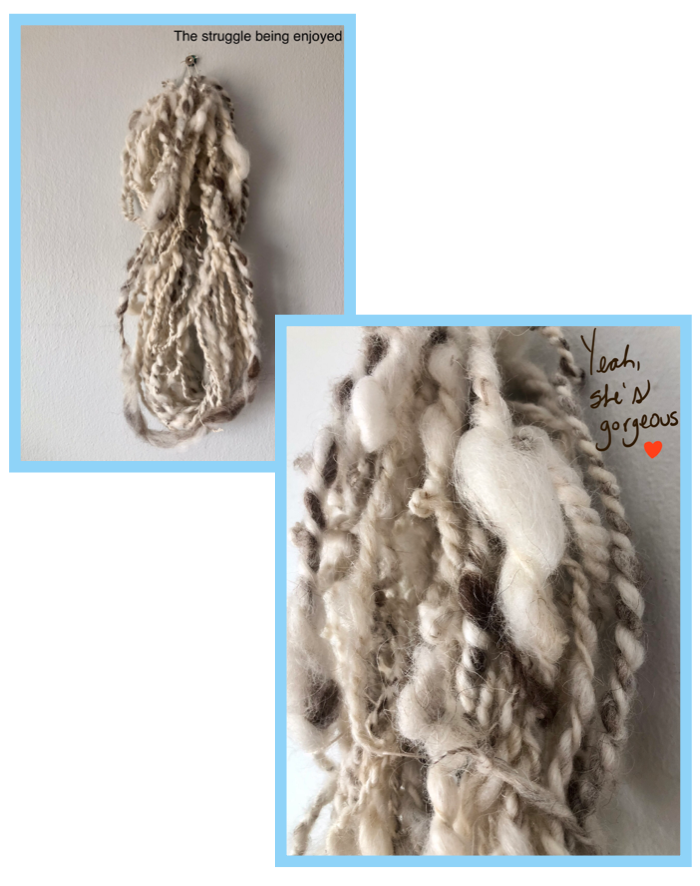 Nancy Long, PhD candidate, Art Education